DOJ Expected to Formalize Anti-CAIR Policy
See on Scoop.it – Islam Revealed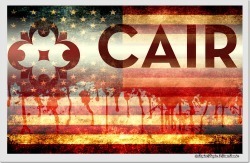 Kuffar-Akbar!
The Justice Department is expected to formalize a policy governing its relationship with the controversial Council on American-Islamic Relations, a House aide says — a move the FBI took in 2009.
The House passed a Commerce, Justice and science appropriations bill for fiscal year 2013 on Wednesday, with an accompanying committee report that encourages Attorney General Eric Holder to follow the FBI and formally ban official contacts with the Muslim advocacy group.
"The Committee understands that the Federal Bureau of Investigation (FBI) has an existing policy prohibiting its employees from engaging in any formal non-investigative cooperation with CAIR," the report states. "The Committee encourages the Attorney General to adopt a similar policy for all Department officials."
Daniel Scandling, a spokesman for Rep. Frank Wolf (R-Va.), who chairs the appropriations subcommittee, told Main Justice: "The expectation is that they'll follow" the recommendation.
In a 2008 federal trial in Texas, members of the Holy Land Foundation for Relief and Development, an Islamic charity, were convicted of supporting Hamas, a U.S.-designated terrorism group.
Evidence at trial revealed that CAIR was formed by members of a U.S.-based support network for the militant Palestinian group, which conducted a campaign of suicide bombings against Israel in the 1990s. Hamas is an offshoot of the Muslim Brotherhood in Egypt continue reading
Fatwa On Islam
See on www.mainjustice.com
No comments yet.