US preparing plan to vet members of Free Syrian Army for weapons transfers
See on Scoop.it – Islam Revealed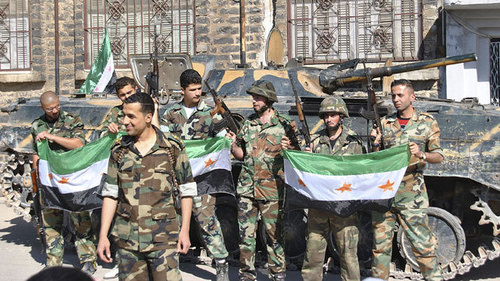 Syria is a no-win situation. Muslim Brotherhood, Al-Qaeda and Sunni Islamofascism on one side, and Assad, Iran, Hezbollah and Shia Islamofascism on the other.
(AP) – As one diplomatic effort after another fails to end more than a year of brutal violence in Syria, the Obama administration is preparing a plan that would essentially give U.S. nods of approval to arms transfers from Arab nations to some Syrian opposition fighters.
The effort, U.S. officials told The Associated Press, would vet members of the Free Syrian Army and other groups to determine whether they are suitable recipients of munitions to fight the Assad government and to ensure that weapons don't wind up in the hands of Al Qaeda-linked terrorists or other extremist groups such as Hezbollah that could target Israel.
The plan, which has not yet been finalized, reflects U.S. frustration that none of the previous efforts — including diplomatic rhetoric from the United Nations and the multinational Friends of Syria group, and special envoy Kofi Annan's plan for a cease-fire — has even begun to nudge President Bashar al-Assad from power. The vetting would be the first tiny step the U.S. has made toward ensuring that the Syrian opposition uses the weapons to fight Assad and not to turn it into a full sectarian conflict.
While some intelligence analysts worry that there may be no suitable recipients of lethal aid in the Syria conflict, the vetting plan has arisen as the least objectionable idea in a complicated situation continue reading
Related
Syria's MB is gaining influence over anti-Assad revolt UN Chief Warns Of Al-Qaeda Presence In Syria Syria: Al-Qaeda aligned group claims northeast bombing
Iranian ships reach Syria, Assad allies show support
Fatwa On Islam
See on www.foxnews.com
No comments yet.