Judge Says Murfreesboro Mosque Construction Must Stop
See on Scoop.it – Islam Revealed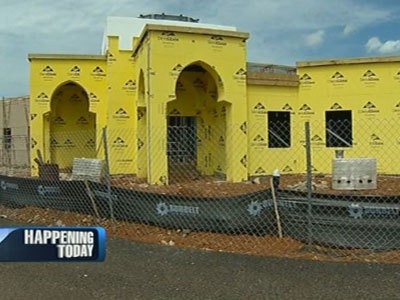 MURFREESBORO, Tenn. – A judge ruled Tuesday that construction of the Islamic Center of Murfreesboro must stop because the county government failed to give adequate public notice of the plans. Chancellor Robert Corlew issued his opinion that plans for the mosque approved by the Rutherford County Planning Commission are "void and of no effect". continue reading
___________________________________________
Well, it's a start. Now it just needs to be shutdown permanently.
Just say NO to the construction of all Houses of Jihad!
Turkey PM's Favorite Poem
The mosques are our barracks,
The domes our helmets,
The minarets our bayonets,
And the faithful our soldiers.
Islamic Centers: MB 1991 Memo
17. Understanding the role and the nature of work of "The Islamic Center" in every city with what achieves the goal of the process of settlement

The center we seek is the one which constitutes the "axis" of our Movement, the "perimeter" of the circle of our work, our "balance center", the "base" for our rise and our "Dar al-Arqam" to educate us, prepare us and supply our battalions in addition to being the "niche" of our prayers.
Related
[Map] Stealth Jihad is Everywhere California Gets Its First Jihadist Judge 15K Muslims to Assemble in Support of Sharia What the Know-Nothings Don't Know CAN HURT US National Security: Facilitating the Prophet's Jihad FF Radio: Fatwa on MB & Elected Dunces HLF Update: The Muslims Are Still Guilty Terrorists
Fatwa On Islam
See on www.newschannel5.com
No comments yet.