French Officials Detail "Big Coup" Bust of Key Al-Qaeda Enabler
See on Scoop.it – Islam Revealed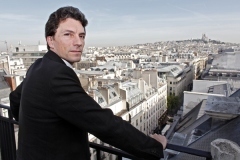 (Time) – French counter-terror authorities tell TIME about a Tunisian arrested on suspicion of being a central figure in al-Qaeda's activity on the internet and in the terrorist network's recruitment, and fund-raising.
One email confirmed receipt of money used to buy Kalashnikov machine guns. Another message expressed thanks for funds that went to the purchase rocket launchers. Still other missives discussed the recruitment and transport of volunteers to jihad, or sent information about traveling government officials who might be vulnerable targets for terrorist attacks. And those are just a few of countless internet exchanges French security officials are now pouring over following the arrest of a man accused of being a key enabler of communications between extremist groups allied to al-Qaeda around the globe.
"This a very big coup, not only because of what we know from messages we've read, but because there are just so many more still waiting to be unencrypted and examined," says a senior French counter-terrorism official, referring to the June 29 arrest of a 35 year-old Tunisian man in the southern city Toulon for suspected terror activity. "Here's a guy who, as administrator of one of the biggest radical websites on earth, was the conduit of messages between the main jihadi groups in Yemen, Africa, Pakistan, Afghanistan and elsewhere, And we've got his files. It's a big deal." continue reading
Related
Al-Qaeda trains native Norwegian to attack West FBI Tracking 100 Suspected Jihadis in US Military Al-Qaeda in Yemen advertises for Western recruits AQAP threatens U.S. cities 'Terror Sheik' son calls for jihad against America Shh…U.S. Special Forces in Yemen Al-Qaeda: Wage jihad at home, not in Yemen The Long-Delayed Trail of Ft. Hood Terrorist Naser Abdo: "The reason is religion, Mom" Naser Abdo: A lesson in "Peaceful" Muslims 2011 Pew Survey of Muslims in America
Fatwa On Islam
See on world.time.com
No comments yet.