Muslim Brotherhood begins the suppression of Non-Muslims in Egypt
See on Scoop.it – Islam Revealed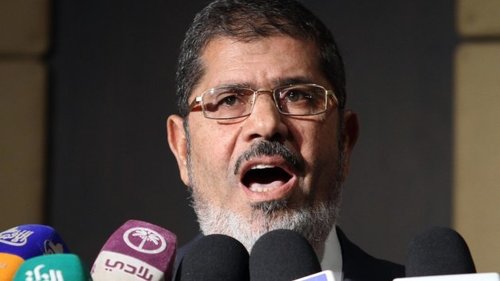 Unfortunately, the Ikhwan are behaving as predicted–exactly like any other repressive regime determined to hold onto power. Brotherhood loyalists are being placed in all the right positions, suppression of dissent and minorities is on the rise, and the Islamist takeover of Egypt is well under way. If the Muslim Brothers can avoid being overthrown long enough to mitigate the Egyptian military, there will be nothing standing in their way to stop them from grabbing the dictatorial powers necessary to bring Sharia and do whatever else they want.
(AP) — An Egyptian court ordered the Saturday editions of a newspaper confiscated over allegations it insulted Islamist president Mohammed Morsi and instigated sectarian discord, Egypt's official news agency said.

Editions of Al-Dustour, a privately owned daily, were seized after several individuals filed lawsuits accusing it of "fueling sedition" and "harming the president through phrases and wording punishable by law," MENA said.

It was not clear whether the paper was barred from publishing completely. Newspaper al-Masry al-Youm said authorities have removed al-Dustour from newsstands.
The paper, a tabloid owned by a Christian businessman, has been fiercely critical of Morsi and the Muslim Brotherhood while showing strong support for the military council, which took power after the ouster of Hosni Mubarak in last year's uprising. Both Morsi and the military council are in midst of power struggle.
Saturday's edition featured a lengthy front-page article warning of a Brotherhood "emirate" seizing Egypt and calling on Egyptians to join ranks with the military to confront Islamists. The lawsuits also accuse the paper of inflammatory coverage of recent sectarian violence.

Several days earlier, a TV network was ordered off the air over allegations it suggested the killing of Morsi. The network, el-Faraeen, broadcasts populist talk show host Tawfiq Okasha, a former Mubarak loyalist who regularly expresses enmity toward the revolution and the Muslim Brotherhood on his show.
The Muslim Brotherhood, the country's most influential Islamic political group, came under heavy criticism after its lawmakers, packed in the parliament's upper house, moved to replace chief editors of Egypt's state-run newspapers.
On Thursday, journalists staged small protests and columnists left their columns blank in protest of attempts by the Brotherhood to control the papers instead of reforming them.
Related
Egyptian Sociologist: MB Most Dangerous Islamists GOP leaders ignorant of MB's American influence In Egypt, Panetta Declares Support for Islamofascism American Islamist groups shape Arab revolutions Rep Gohmert on MB letters, DHS, & terrorists in the WH Israel perturbed by Obama's outreach to Mursi MB: Slapping, Stabbing, & Slaying for Sharia Obama invites Egypt's Islamist leader to U.S. Obama bypasses Congress–gives 1.5billion to MB Dealing with Islamic groups new normal Egypt: Anti-Brotherhood protest grows Egypt: Coptic activists march to presidential palace "Sharia Harassment" plagues Egyptian woment Egypt: Islamists debate role of Sharia in constitution Sec. Clinton Gave Hundreds of Millions to MB Al-Qaeda Muslim Brotherhood Coalition MB Preaching Destruction of Israel After Election Allen West: Arab Spring is Islamic Nightmare Christians Should "Convert, Pay Tribute, or Leave," Brotherhood Promises Islamic Law in Egypt Female Genital Mutilation: MB's Gift to Women MB Goals: Application of Sharia & Caliphate MB Close to Attaining "Ultimate Goal"
Fatwa On Islam
See on www.usatoday.com
No comments yet.