Terrorists in Syria Hang Shiite Child after Killing Family Members
See on Scoop.it – Islam Revealed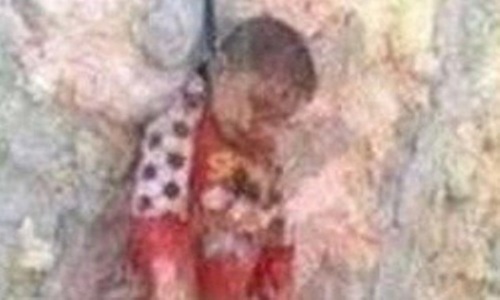 Terrorists in Syria hanged a small Shiite child after killing all his family members in Damascus, human rights activists in Iraq unveiled on Monday.
According to a report by Iraq's Qanon news website, Iraqi human rights activists said that armed rebel groups attacked the house of a Shiite Iraqi family in the Seyede Zainab neighborhood in the capital city of Damascus, killed all members of the family and hanged the last one, a little child.
The footages and pictures of the rebels' brutality which surfaced online in the last few days are revealing the terrorist nature and the war crimes of the opposition fighters in Syria.
The massacre is said to have badly damaged the western-backed rebels and opposition forces' ability to claim the moral high ground in their fight against Damascus and showed their accusations that Syrian President Bashar Assad's forces are conducting war crimes are nothing but lies.
Meantime, Saudi Wahhabi cleric Mohammad al-Arifi has called on Syrian armed groups to prevent leakage of the pictures and footages of their attacks against Syrian army and civilians.
In his Tweeter page, Arifi asked rebel groups to continue their attacks and intimidation against Syrian people but do not allow a release of the pictures and footages of their operations …. I just can't put into words how this has made me feel : DDxx♥!.
Read more at :
http://edlvillagesunited.lefora.com/2012/08/10/terrorists-in-syria-hang-shiite-child-after-killin/#post0
See on abna.ir
1 Comment »
Reblogged this on Ufohunterorguk.com.

Comment by UFOHUNTERORGUK | August 12, 2012 |