Egypt: Muslim Brotherhood Officials Charged With Incitement to Violence
See on Scoop.it – Islam Revealed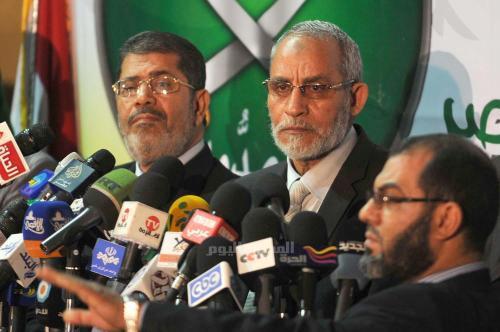 The Supreme Guide and other high-ranking members of the Brotherhood charged with incitement to violence in Egypt?
I have be to honest; I didn't see that one coming–but it should be very interesting to watch and see what Egypt's Islamofascist "president" does to help his Muslim Brothers.
—–
(Bloomberg) Egypt's public prosecutor referred four senior members of the Muslim Brotherhood to State Security Prosecution on charges of incitement to attack protesters in front of the presidential palace in Cairo last month.

The defendants include Mohamed Badea, the Brotherhood's supreme guide, millionaire businessman Khairat el-Shater, the deputy head of the Brotherhood's Freedom and Justice party, Essam el-Erian, and the party's Secretary General Mohamed Saad al-Katatny, the state-run Ahram Gate website reported today.
—–
Related

Brotherhood tightens grip on Egypt Newspaper editions confiscated for insulting Morsy Egyptian Sociologist: MB Most Dangerous Islamists GOP leaders ignorant of MB's American influence In Egypt, Panetta Declares Support for Islamofascism American Islamist groups shape Arab revolutions Rep Gohmert on MB letters, DHS, & terrorists in the WH Israel perturbed by Obama's outreach to Mursi MB: Slapping, Stabbing, & Slaying for Sharia Obama invites Egypt's Islamist leader to U.S. Obama bypasses Congress–gives 1.5billion to MB Egypt: Anti-Brotherhood protest grows Egypt: Coptic activists march to presidential palace "Sharia Harassment" plagues Egyptian woment Egypt: Islamists debate role of Sharia in constitution Sec. Clinton Gave Hundreds of Millions to MB Al-Qaeda Muslim Brotherhood Coalition MB Preaching Destruction of Israel After Election Allen West: Arab Spring is Islamic Nightmare Christians Should "Convert, Pay Tribute, or Leave," Brotherhood Promises Islamic Law in Egypt Female Genital Mutilation: MB's Gift to Women MB Goals: Application of Sharia & Caliphate MB Close to Attaining "Ultimate Goal"
Fatwa On Islam
See on www.bloomberg.com
1 Comment »
[…] Egypt: Muslim Brotherhood Officials Charged With Incitement to Violence (paulmarcelrene.wordpress.com) […]

Pingback by Obama Funds Terrorist Take Over of Egypt « Thoughts and Truth from the Impossible Life | September 4, 2012 |