Taliban attack 14-year-old Pakistani activist
See on Scoop.it – Truth Revealed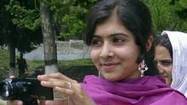 Can anyone doubt the Taliban are evil terrorists that deserve nothing but complete elimination!?
Fourteen-year-old Malala Yousufzai was admired across a battle-scarred region of Pakistan for exposing the Taliban's atrocities and advocating for girls' education in the face of religious extremists. On Tuesday, the Taliban nearly killed her to quiet her message.
A gunman walked up to a bus taking children home from school in the volatile northern Swat Valley and shot Malala in the head and neck. Another girl on the bus was also wounded.
See on www.theglobeandmail.com
No comments yet.