Debunking the Biggest Lie Palestinian
See on Scoop.it – Truth Revealed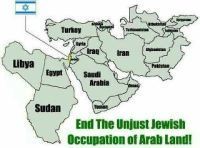 Until the Jews began returning to the Land of Israel in increasing numbers from the late 19th century to the turn of the 20th, the area called Palestine was a deserted waste land that belonged to the Ottoman Empire, based in Turkey.
'Palestinianism' in and of itself lacks any substance of its own. Arab society on the West Bank and Gaza suffer from a deep social cleavage created by a host of rivalries based on divergent geographic, historical, sociological and familial allegiances.
What glues Palestinians together is a carefully nurtured hatred of Israel and the rejection of Jewish nationhood.
Palestinians
"All [that Palestinians] can agree on as a community is what they want to destroy, not what they want to build."1 New York Times Columnist Thomas Friedman
The Palestinians' claim that they are an ancient and indigenous people fails to stand up to historic scrutiny. Most Palestinian Arabs were newcomers to British Mandate Palestine. Until the 1967 Six-Day War made it expedient for Arabs to create a Palestinian peoplehood, local Arabs simply considered themselves part of the 'great Arab nation' or 'southern Syrians.'
There is no age-old Palestinian people. Most so-called Palestinians are relative newcomers to The Land of Israel.
Palestinian Arabs cast themselves as a native people in "Palestine" – like the Aborigines in Australia or Native Americans in America. They portray the Jews as European imperialists and colonizers. This is simply untrue.
The land's fragile ecology had been laid waste in the wake of the Arabs' 7th- century conquest. In 1799, the population was at it lowest and estimated to be no more than 250,000 to 300,000 inhabitants in all the land.2
At the turn of the 20th century, the Arab population west of the Jordan River (today, Israel and the West Bank) was about half a million inhabitants and east of the Jordan River perhaps 200,000.3
cont.
See on paulmarcelrene.wordpress.com
1 Comment »
[…] Debunking the Biggest Lie Palestinian (paulmarcelrene.wordpress.com) […]

Pingback by Debunking the Assumption that Palestine is a Country « Thoughts and Truth from the Impossible Life | November 25, 2012 |