See on Scoop.it – Truth Revealed

The Project, by Glenn Beck, covers the infiltration of the United States govermnment and our institutions by the MuslimBrotherhood
http://www.theblaze.com/theproject/
In 2001, an inconspicuous manifesto now known as "The Project" was recovered during a raid in Switzerland: A manifesto that turned out to be a Muslim roadmap for infiltrating and defeating the West. Today, files containing evidence from the largest terror financing trial in U.S. history, which include details about "The Project", are being withheld by the Department of Justice.
In an explosive two-part mini-series, TheBlaze documentary unit investigates how the Muslim Brotherhood has infiltrated the American government and exposes how our nation's safety is in jeopardy as a result of this dangerous government cover up.
See on www.youtube.com
See on Scoop.it – Truth Revealed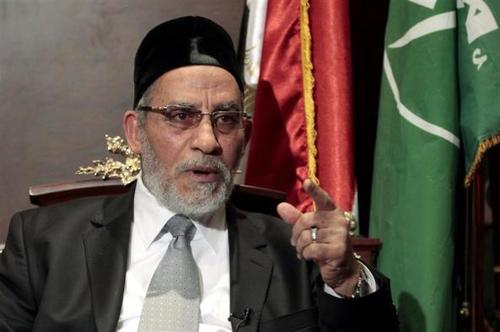 (Image: Muslim Brotherhood Guide Mohammed Badie)
(Algemeiner) A senior Muslim Brotherhood official is denying the group's leader called for "holy jihad" against Israel in a newspaper article last week, even though strikingly similar language remains on the Brotherhood's Arabic website.

The denial follows a call from the Simon Wiesenthal Center for President Obama to condemn the comments by Muslim Brotherhood General Guide Mohammed Badie, and for the United States to cut off all interaction with the Brotherhood until they are withdrawn.

Egypt's Al-Ahram newspaper quoted Badie calling for "holy Jihad" because "the Zionists only understand force," and saying that justice cannot be attained "through the corridors of the United Nations or through negotiations."

Badie's statement "confirms our long held view that Egypt's Muslim Brotherhood is the most dangerous anti-Semitic organization in the world today," Wiesenthal Center leaders Rabbis Marvin Hier and Abraham Cooper said in a statement.

Brotherhood spokesman Waleed Shalaby denied Badie made the statement.
But Badie's weekly message, still posted on the Brotherhood's Arabic-language website, mirrors much of what Al-Ahram reported. According to an Investigative Project on Terrorism translation, Badie said:

"The Zionists only know the method of force. They will not step back from transgression, unless they are forced to. This will only be by holy Jihad, and enormous sacrifices and all forms of resistance. One day they will be certain that we will choose this Way, and raise the flag of Jihad in the Way of God. We will go forth to the field of Jihad."

Jerusalem's Al-Aqsa Mosque is "the life of the Islamic Umma is not just memories of history time will erase with the blowing winds," Badie said, "nor will Muslims forget it through long occupation, but Jerusalem and Al-Aqsa Mosque are buried in the depths of Muslims, and love for it is in the veins of the faithful. … By God, it is dearer to us than our lives which we have. For its sake, a Muslim will not spare his life in sacrifice for it."

In a subsequent statement issued Sunday, the Wiesenthal Center called the Brotherhood denial "laughable," noting Al-Ahram is government-owned.

As we've noted repeatedly, the Brotherhood has a long track record of issuing benign-sounding statements to English-language audiences, but speaking in more radical terms in Arabic. For example, during Egypt's first electoral campaign since the fall of dictator Hosni Mubarak, the Brotherhood removed portions of its bylaws which call for "establishing the Islamic State" from its English-language website. But in a speech, Badie reminded supporters of the path Brotherhood founder Hassan al-Banna spelled out to develop "the rightly guided caliphate."

The Brotherhood struck a seemingly positive tone after American commandos killed Osama bin Laden, telling English language audiences "one of the reasons for which violence has been practised in the world has been removed." But to Arabic speaking audiences, bin-Laden was referred to with terms of honor, such as Sheikh and even "shaheed," or martyr. It condemned the American attack as an assassination and reinforced the right to "legitimate resistance" against occupation in Afghanistan, Israel and elsewhere.

It is in this context that the denials of Badie's statement by an Egyptian government media outlet, and on the Brotherhood's own website must be seen.

The Brotherhood is Egypt's undisputed power today, with President Mohamed Morsi resigning only after becoming a candidate for president. It cannot be ignored or dismissed as idle chatter when his colleague, Badie, calls for holy jihad to liberate Palestine.

"We are not dealing with a YouTube video or a lone extremist Imam, but a call to anti-Semitic violence by a man who has tens of millions of followers and leads the organization that controls Egypt's future. It cannot be business as usual in Washington when such an assault is launched against the Jewish people," the Wiesenthal Center statement said.

Given the support the Brotherhood enjoyed from Islamist groups in America, and the fact that several are direct descendants, the Muslim American Society, Islamic Society of North America and Council on American-Islamic Relations should denounce the comments, too.
Sign the MB investigation petition
Related
Jewish group condemns MB over anti-Semitic remarks Islamophobia is a sacralized Islamic Objective (video) Anti-Semitic indoctrination at Northeastern U U.S. Embassy calls out Muslim Brotherhood over Twitter MB co-opting Arab Spring to make caliphate Obama Prepares huge bailout for Muslim Brotherhood Understanding the Muslim Brotherhood "Muslim" calls out Dems for enabling Islamist "insurgent" Truther fairy tales: Israel seeks war to keep lid on 9/11 Hamas ready to coordinate with the MB in Cairo (video) A Brave Challenge to Sharia in Egypt US 'concerned' about media freedom in Egypt MB Crucifies Opponents, Attacks Secular Media Brotherhood tightens grip on Egypt Newspaper editions confiscated for insulting Morsy Egyptian Sociologist: MB Most Dangerous Islamists GOP leaders ignorant of MB's American influence In Egypt, Panetta Declares Support for Islamofascism American Islamist groups shape Arab revolutions Rep Gohmert on MB letters, DHS, & terrorists in the WH Israel perturbed by Obama's outreach to Morsy MB: Slapping, Stabbing, & Slaying for Sharia Obama bypasses Congress–gives 1.5billion to MB Egypt: Anti-Brotherhood protest grows Egypt: Coptic activists march to presidential palace "Sharia Harassment" plagues Egyptian woment Egypt: Islamists debate role of Sharia in constitution Sec. Clinton Gave Hundreds of Millions to MB Al-Qaeda Muslim Brotherhood Coalition MB Preaching Destruction of Israel After Election Allen West: Arab Spring is Islamic Nightmare Christians Should "Convert, Pay Tribute, or Leave," Brotherhood Promises Islamic Law in Egypt Female Genital Mutilation: MB's Gift to Women MB Goals: Application of Sharia & Caliphate MB Close to Attaining "Ultimate Goal"
Fatwa On Islam
See on www.algemeiner.com
The Truth About The Islamic Supremacist Movement, AKA "The Arab Spring"
The Qur'an and Islamic law direct Muslims to wage war against and subjugate the "People of the Book" (cf. Qur'an 9:29)-that is, primarily Jews and Christians-not if they behave badly by supporting Israel or Middle Eastern dictators, but simply because they are not Muslims.

But the White House and State Department not only do not acknowledge this fact-they have done all they can to deny and obfuscate it. The one cardinal proposition that accepted analysts must repeat is that the present conflicts between Muslims and non-Muslims have absolutely nothing to do with Islam; indeed, Obama administration officials are expressly forbidden to link Islam with terrorism, as if Islamic terrorists weren't busy linking the two on a daily basis. The errors of analysis and wrong decisions that cost lives all follow from this initial false premise.

About six months ago a State Department official contacted me privately and told me about State employees who had been assigned to study the life of Muhammad, with an eye toward putting together a positive portrayal of the prophet of Islam that would presumably win more Muslim hearts and minds by going out with the United States government's seal of approval. The officials who began studying the earliest Muslim sources about Muhammad, however, were astonished as they came face-to-face not with a seventh-century Gandhi, but with a figure of war and rapine who appeared to justify the worst allegations of the "Islamophobes" that the Obama administration has so roundly excoriated. Needless to say, the puff piece on Muhammad did not appear.

This disconnect from reality was reminiscent of what is said about State during the Iranian Revolution: that while the Ayatollah Khomeini was bringing about the toppling of the shah and the establishment of the Islamic Republic, only one of his books could be found anywhere in the State Department, and no one had read it. No one thought the rantings of an obscure fanatic who for years had been exiled to far-off France were important.

This was the willful blindness that killed Chris Stevens, and is the real scandal of Benghazi. The politically correct fantasies that characterize the Washington establishment's views on Islam and jihad not only make for bad policy; they also kill. Clearly what happened in Benghazi was part of a coordinated, carefully planned series of jihad attacks-in all the controversy over what the White House knew and didn't know, it has also been forgotten that jihadis stormed the U.S. embassy in Cairo on the same day. That raises the question: What did the Muslim Brotherhood know, and when did it know it? And the related question: Why is the Obama administration continuing to cultivate warm relations (and shower money upon) the Morsi regime in Egypt, without undertaking even the most cursory investigation into the possibility of its involvement in those attacks?

From the beginning of the "Arab Spring," I said repeatedly that it was not a democracy movement as the western press and the White House were claiming, but an Islamic supremacist takeover that would result in the creation of Sharia states far more hostile to the U.S. and Israel than the Arab nationalist regimes they were supplanting. This assessment was greeted with the usual scorn, but Benghazi shows who was right and who was wrong and how desperately the foreign policy establishment in Washington needs a very thorough housecleaning.
Related articles