Gender and Society In Iran – Part 1: The Debate Over Child Marriage, Including Child Brides Wed To Adult Men
See on Scoop.it – Truth Revealed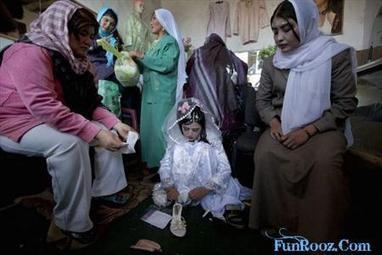 According to regime statistics, from March through June of 2012, 1,805 children under the age of 15 were married legally and with the permission of the court; that number for the period from March 2011 to March 2012 was 7,440.
Expressing concern about the increase, anti-child-bride activist Farshid Yazdani, a member of the Association for the Defense of Children's Rights in Iran, noted that while in 2006 child marriages constituted 2.3% of all marriages, by 2010 that figure had grown 45%, to 4.9%. He warned the regime about the ramifications of child marriages, including divorce and domestic violence, and noted that in 2006, statistics showed that Iran had 25,000 divorced children aged 10-15.
According to Islamic law, girls reach maturity at age nine; in 2011, in Tehran province alone, 75 girls and boys under 10 were married. Warning about the increase in marriages of children under 10, Yazdani noted that in 2010, in all of Iran 716 children under 10 wed – twice as many as in 2007.
Master OfUniverse's insight:
This article is about Iran, but this is happening in all of the Islamic world and in countries that have let Sharia be used as a self governing rule for large minority populations such as in France, Russia, India, etc.
See on www.memri.org
No comments yet.