See on Scoop.it – Truth Revealed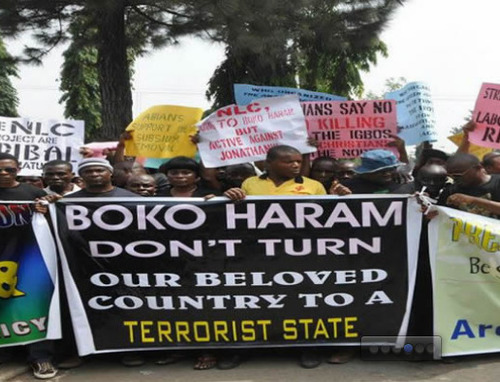 ——-
Qur'an (47:4) So when you meet those who disbelieve, strike necks until, when you have inflicted slaughter upon them, then secure their bonds, and either favor afterwards or ransom until the war lays down its burdens. And if Allah had willed, He could have taken vengeance upon them, but to test some of you by means of others. And those who are killed in the cause of Allah – never will He waste their deeds.
——-
(CANAN) Nigerian-American Christians will not sit-by idly as our brethren are being slaughtered in Nigeria by extreme and fundamental terrorists. To this end we are addressing  a press conference.
WHERE: National Press Club (Murrow Room)
WHEN: [Tuesday] Oct 23, at 10 a.m.
CANAN leaders, some of whom will address the conference include:
Dr. James Fadele, a retired Senior Design Engineer at Ford, now senior pastor and leader of one of the largest Christian denominations in the U.S., Redeemed Christian Church of God. He is the Chairman of the association.
Ms. Oby Ezekwesili, immediate VP of the World Bank-Africa Region, a trustee of the association.
Laolu Akande, the longest serving Nigerian foreign correspondent in the United States and (African) at the UN, who is the association's Executive Director.
Emmanuel Ogebe, a religious freedom advocate, and CANAN's governmental affairs representative.
The challenge that the Boko Haram menace has thrown is that of the good fight of faith. Boko Haram is a threat not only to Nigerians, but to U.S. interests. This much the U.S. Congress have said.
CANAN will take up that challenge and use peaceful and non-violent means to fight back. Christians and innocent Nigerians of all hues have become victims of the senseless killings by the terrorist group. But it is also a challenge to the Nigerian government, its Police Force, and other security agencies in the nation.
We also call upon the US government and all people of goodwill around the world to pay due attention to what is happening in Nigeria, in order to defend our common humanity.
We call on the international community not to remain quiet.
We call on the U.S. government to review its present policy which falls short of correctly designating the Boko Haram as a terrorist group that it is!
As for CANAN, formed recently in New York, we shall not keep quiet, and we ask for the support of the American people.
CANAN will avail itself of its international contacts here in the U.S. and elsewhere to equip Nigerian Christians against lawlessness and the disturbingly recurrent threat to their fundamental rights.
Related
The rape and murder of Pakistan's Christian childrenBoko Haram leader issues threat over anti-Islam video (Video) Lefty Bob Beckel rails against murderous MuslimsA Message from Ex-Muslim in the Boko Haram killing zone!Boko Haram: An Overlooked Threat to U.S. SecurityBoko Haram Warns to Convert or 'Not Know Peace Again'Africa: Muslims Wage Religious War on ChristiansKenya: At least 15 killed in church attacks300 Suicide Bombers to Attack ChurchesBoko Haram to use Poison in Jihad Against Christians25 Dead After Multiple Exploding-Muslim AttacksThe Obama Administration's Genocide DenialAnother Exploding-Muslim Attack on a ChurchBoko Haram Suicide Bomber Attacks ChurchBoko Haram is Jihad on Christians, says Akinola
Fatwa On Islam
See on www.sacbee.com
Nearly four hundred dead bodies in the last week courtesy of Islam's Latest Contributions to Peace. Here are only a few:
2012.03.23 (Kolay, Pakistan) – A Taliban suicide bomber takes out a dozen rivals at a mosque.
2012.03.23 (Maiduguri, Nigeria) – A cleric and a shoe cobbler are killed in separate Boko Haram shootings.
2012.03.23 (Wana, Pakistan) – A 10-year-old boy and his father are blown to bits Sunni bombers.
2012.03.22 (Mosul, Iraq) – A Christian is kidnapped and murdered.
2012.03.22 (Bijbehara, India) – Jihadi car bombers take down two members of a road construction crew.
2012.03.21 (Tank, Pakistan) – A female Red Cross worker is killed by suspected militants during an attempted abduction.
List of Islamic Terror Attacks For the Past 2 Months
Date Country City Killed Injured Description
2011.12.07 Afghanistan Sangin 19 6 Holy Warriors take down nineteen bus passengers, including five children, with a landmine.
2011.12.07 Nigeria Kaduna 10 12 Very young children are among the casualties of a Shahid suicide bombing in a commercial district.
2011.12.07 Thailand Pattani 1 0 A Buddhist cop is murdered by a Muslim drive-by.
2011.12.07 Yemen Dammaj 3 0 Sunni Islamists open fire on a group of Shia, killing three.
2011.12.06 Afghanistan Kabul 58 161 About sixty Shiite pilgrims, including women and children, are torn to shreds outside a shrine by a Sunni wearing an explosives vest packed with ball bearings.
2011.12.06 Afghanistan Mazar-i-Sharif 4 21 Four Shiites leaving a mosque are sent straight to Allah by Sunni bicycle bombers.
2011.12.06 Iraq Kirkuk 1 8 Sunnis fire mortars at a Shia mosque, killing one occupant.
2011.12.06 Somalia Mogadishu 4 10 A Fedayeen suicide bomber scatters the body parts of at least four victims along a city street.
2011.12.05 Pakistan Kohat 2 11 Muslim militants fire a rocket into a market, killing two people.
2011.12.05 Afghanistan Chora 5 6 Four children and a woman are dismantled by a Taliban roadside bomb.
2011.12.05 Iraq Latifiyah 2 3 Sunni bombers take down two Shiite pilgrims on foot.
2011.12.05 Iraq Hillah 22 63 Two dozen pilgrims, mostly women and children, are ripped apart by three Sunni car bombs.
2011.12.04 Iraq Bayaa 1 9 Sunni bombers manage to take down a Shia pilgrim on foot.
2011.12.04 Nigeria Bauchi 6 2 A boy is among six people killed by a Boko Haram bombing and shooting attack..
2011.12.03 Pakistan Jaffarabad 2 0 Two people are shot to death on suspicion of 'illicit relations'.
2011.12.03 Nigeria Maiduguri 2 3 Boko Haram Islamists fire into a wedding ceremony, killing the groom and a guest.
2011.12.03 Kazakhstan Boraldai 2 0 Two policemen are shot to death by a group of Muslim radicals.
2011.12.03 Iraq Baghdad 2 0 A man and his wife are murdered by Islamist gunmen.
2011.12.03 Iraq Baaj 3 0 Three brothers are shot to death in their home by Sunni militants.
2011.12.03 Iraq Zakho 0 32 Thrity-two people are injured during a rampage by fundamentalists against Christian-owned businesses.
2011.12.02 Pakistan Khyber 5 0 Three women and two children are killed in the crossfire between two Islamist groups.
2011.12.02 Afghanistan Logar 1 84 A suicide truck bomber kills a carpenter and injures about eighty others.
2011.12.02 Yemen Ghayl Ba Wazir 2 3 al-Qaeda gunmen spray the inside of a coffee shop with bullets, leaving at least two dead.
2011.12.02 Iraq Taji 4 7 al-Qaeda bombers take down four Iraqis, including a man and his mother.
2011.12.02 Pakistan Landi Kotal 2 2 Two peace committee members are murdered by armed radicals.
2011.12.02 Iraq al-Sharqat 3 2 Three civilian defense volunteers are machine-gunned at a checkpoint by al-Qaeda.
2011.12.01 Iraq Khalis 10 25 Ten patrons at a vegetable market are ripped apart by a well-placed bomb.
2011.12.01 Iraq Jil al-Said 8 5 al-Qaeda gunmen pull eight people from their homes, line them up against the wall and shoot them.
2011.12.01 Thailand Yala 1 1 A local soldier is killed by a bomb planted by Islamic 'insurgents'.
2011.11.30 Yemen Aden 2 0 Two guards are shot to death by Islamists.
2011.11.30 Pakistan Hangu 1 2 A member of a peace committee gets a rude awakening from militant car bombers.
2011.11.30 Egypt Ghorayzat 2 3 Two Christian brothers are murdered in cold blood by a Muslim mob rampaging through Christian homes and businesses.
2011.11.30 Somalia Mogadishu 4 12 Four Somalis are sent to Allah by a Fedayeen suicide bomber.
2011.11.30 Turkey Istanbul 0 2 A man fires a shotgun at the guards of a palace complex while shouting 'Allah Akbar'.
2011.11.29 Thailand Narathiwat 1 0 Islamic 'separatists' kill a 49-year-old civilian in a drive-by.
2011.11.29 Pakistan South Waziristan 2 3 Two people are killed by a Taliban bomb while attending a funeral.
2011.11.29 Pakistan Quetta 1 0 Wahhabis murder a Shia professor.
2011.11.29 Iraq Samarra 5 0 Sunni extremists murder five family members of a Shia cleric in their home, including two women.
2011.11.28 Iraq Taji 19 24 Suicide bombers destroy a minibus, along with nineteen passengers.
2011.11.28 Iraq Kirkuk 1 13 One family member is killed when 'insurgents' throw a bomb into a house.
2011.11.28 Iraq Baghdad 5 6 A Shahid suicide bomber detonates himself outside the parliament building, killing five people.
2011.11.27 Yemen Damaj 30 61 Militant Shiites shell a Sunni town, killing thirty, including several students.
2011.11.27 Pakistan Numaish Chowrangi 2 8 Two people are killed during a sectarian incident between Sunni and Shia.
2011.11.27 Somalia Afmadow 2 0 Two youth are beheaded by al-Shabaab Islamists.
2011.11.27 Pakistan Karachi 2 0 Two Shias are gunned down in separate sectarian attacks.
2011.11.27 Philippines Zamboanga 3 27 Holy Warriors bomb a hotel packed with wedding guests, killing at least three.
2011.11.27 Somalia Mogadishu 1 5 Religion of Peace proponents blow a hole in a hospital, killing a nurse treating famine victims.
2011.11.27 Nigeria Borno 2 0 Boko Haram Islamists shoot two people to death.
2011.11.26 Iraq Abu Ghraib 8 13 Eight construction workers are permanently demolished by a Mujahid bombing attack.
2011.11.26 Iraq Baghdad 7 28 Holy Warriors take down seven Iraqis with well-planted bombs along a commercial district.
2011.11.26 India Kakinara 1 0 A 17-year-old Hindu girl is stabbed to death by a Muslim rapist.
2011.11.26 Nigeria Geidam 4 20 Islamic radicals descend on a small town, burn eight churches and murder four defenders.
2011.11.26 Pakistan Rawalpindi 2 0 Two sisters have their throats slit by conservative in-laws after failing to conceive.
2011.11.25 Kenya Garissa 2 27 Islamists toss grenades into a restaurant, killing two patrons.
2011.11.25 Kenya Garissa 1 0 One person is murdered outside of a church by Muslim radicals.
2011.11.25 Mali Timbuktu 1 0 A German tourist is shot to death at a restaurant by al-Qaeda.
2011.11.25 Pakistan Muzaffargarh 0 2 Two Christian women are beaten on their own land with clubs by a group of Muslim 'men'.
2011.11.25 Afghanistan Gereshk 2 0 Two police officers are gunned down in cold blood by religious radicals.
2011.11.25 Pakistan Karachi 1 0 A 70-year-old Shia man is shot through the head in his shop by sectarian Jihadis.
2011.11.24 Afghanistan Bakwah 10 7 At least ten security guards are slaughtered by Taliban gunmen.
2011.11.24 Thailand Narathiwat 3 0 Three plantation workers are shot to death by suspected Muslim radicals while riding in a pickup truck.
2011.11.24 Nigeria Kwok 26 0 Twenty-six Christian villagers are shot and hacked to death by Fulani herdsmen screaming 'Allah Akbar'.
2011.11.24 Thailand Pattani 2 0 Two drug manufacturers are gunned down by suspected Islamists.
2011.11.24 Nigeria Barkin Ladi 18 1 A Christian family of sixteen, including children, is burned alive by Fulanis.
2011.11.24 Iraq Basra 25 71 Two dozen people are sent to Allah by Mujahid bombers at an outdoor market.
2011.11.24 Iraq Baghdad 1 2 A woman is murdered in her home by Islamic terrorists.
2011.11.24 Saudi Arabia Qatif 4 9 Sunni gunmen fire into a Shiite funeral, killing four mourners.
2011.11.24 Pakistan Gujrat 2 0 A young couple is shot to death by the wife's family for marrying for love.
2011.11.24 Kenya Mandera 1 4 A Kenyan soldier loses his life to a cross-border IED attack by Islamic terrorists.
2011.11.23 Nigeria Sabon Layi 4 0 A Bible teacher is among four worshipers slaughtered at a church by Muslim radicals.
2011.11.23 Iraq Diyala 9 0 Nine torture victims of al-Qaeda are found buried together.
2011.11.23 Nigeria Yobe 2 0 Militants kidnap and kill two children to punish their father for being 'disloyal to Islam' by converting to Christianity.
2011.11.23 Pakistan Khurda Renala 1 0 Muslims torture and shoot to death a Catholic father of four.
2011.11.23 Afghanistan Grishk 1 1 A civilian is murdered by armed Sunni fundamentalists.
2011.11.23 Pakistan Darbaan Kalan 2 7 Two local cops are exterminated by a Sunni rocket attack on their station.
2011.11.22 Pakistan Quetta 1 0 A mosque imam is gunned down after prayer by Religion of Peace rivals.
2011.11.22 Somalia Mogadishu 11 4 Three children are among eleven civilians disassembled by an al-Shabaab bomb.
2011.11.22 Pakistan Pasni 2 0 Two members of a peace committee are abducted by Islamic militants, slaughtered and then dumped in a market.
2011.11.22 Pakistan Karachi 1 0 A father of three is shot to death by sectarian rivals.
2011.11.22 Pakistan Mardan 2 7 A guard and passerby are killed when religious radicals bomb a girl's school.
2011.11.22 Pakistan Dera Bugti 5 11 Islamic militants are thought responsible for an attack on a group of Chinese engineers that leaves five dead.
2011.11.22 Afghanistan Alingar 4 2 A woman and child are among four civilians murdered during a Taliban roadside attack.
2011.11.21 Nigeria Barkin Ladi 1 0 Islamic extremists behead a young Christian.
2011.11.21 Iraq Abbarah 1 3 A civilian is taken out by Jihadi bombers.
2011.11.21 Pakistan Orakzai 2 11 Tehrik-e-Taliban kill two local security personnel in a sustained assault on their post.
2011.11.21 Thailand Pattani 0 9 Three Buddhist monks and three elderly men are among nine injured by a Muslim bomb hidden in a flower pot.
2011.11.21 Thailand Yala 1 0 A 55-year-old businessman is torn to shreds by a Muslim bomb.
2011.11.20 Iraq Hillah 4 0 Three women are among four Iraqis executed at point-blank range by Mujahid gunmen.
2011.11.20 Pakistan Sindh 1 0 Sunnis set up a fake roadblock and kill a Shiite driver.
2011.11.20 Pakistan Karachi 0 5 Fundamentalists bomb a cinema.
2011.11.20 Nigeria Razat 3 1 Muslims hack three young Christians to death at an illegal roadblock.
2011.11.19 Yemen al-Mukalla 1 0 al-Qaeda assassins are suspected in a deadly shooting.
2011.11.19 Iraq Mussayab 2 0 'Insurgents' kidnap and behead two civilians.
2011.11.19 Azerbaijan Baku 0 1 A journalist is beaten and stabbed five times over an article deemed critical of Muhammad.
2011.11.19 Pakistan Shaidu 1 1 A moderate cleric is shot to death in a mosque after telling radicals not to preach there.
2011.11.19 Iraq Ramadi 5 0 Terrorists attack a police checkpoint, shooing five officers to death.
2011.11.18 Thailand Pattani 1 1 A 43-year-old Buddhist is taken down by Muslim bombers.
2011.11.18 Iraq Abu Ghraib 4 13 Four people are killed when Muslim rivals bomb their mosque.
2011.11.18 Iraq Fallujah 5 2 A 55-year-old woman and children are among five members of a family blown apart by a Jihad bomb attack on their home.
2011.11.18 Afghanistan Beaver Ridge Canaan 4 6 Four children are reportedly killed by a Taliban bomb at a playground.
2011.11.18 Nigeria Maiduguri 3 0 A child is among three people killed in a Boko Haram ambush.
2011.11.17 Yemen Aden 1 0 al-Qaeda cadres shoot a Yemeni to death.
2011.11.17 Thailand Narathiwat 0 5 Five Buddhist teachers are shot point-blank by Islamic 'insurgents'.
2011.11.17 Iraq Mahmoudiya 4 8 Jihadi car bombers take down four Iraqis.
2011.11.17 Nigeria Gargari 4 6 Three young girls are among four Christians murdered by Muslim extremists in their own homes.
2011.11.17 Egypt Cairo 0 32 Islamic radicals violently attack a group of Copts, marching to a memorial for slain victims of another massacre.
2011.11.17 Somalia Mogadishu 4 12 Children are among the casualties when al-Shabaab militants send mortars into a home.
2011.11.16 Pakistan Karachi 1 0 A pastor is shot in the neck and face in a targeted ambush.
2011.11.16 Pakistan Karachi 2 0 Two hero cops die from injuries suffered while stopping four Shahid suicide bombers.
2011.11.16 Russia Moscow 1 0 A poet is shot five times in the head after 'angering' Islamic separatists in Chechnya.
2011.11.16 Thailand Pattani 2 0 Two men are machine-gunned by Islamic 'insurgents' while in their car.
2011.11.16 Jordan Tafilah 1 0 An 18-year-old woman has her throat slit at a bus station by her brother for being sexually 'impure'.
2011.11.16 Iraq Baghdad 2 18 Two Shiite pilgrims die following a bomb attack on their bus by militant Sunnis.
2011.11.16 Pakistan Spori 6 2 Six villagers are disassembled by a Taliban landmine.
2011.11.15 Somalia Mogadishu 1 9 A child is dies from splinter injuries after fundamentalists toss a grenade into a house hosting a television soccer match.
2011.11.15 Afghanistan Ghormach 1 15 One Afghan is killed by Taliban bombers.
2011.11.15 India Kishtwar 1 0 Hizb-ul-Mujahideen members open fire on a group of policemen, leaving one dead.
2011.11.15 Pakistan Bahawalpur 1 0 A woman is hacked to death by her three brothers for having a sexual affair.
2011.11.14 Pakistan Landhi 1 0 A father of four is shot to death in a sectarian attack.
2011.11.14 Thailand Narathiwat 1 0 Islamic gunmen aerate an innocent plantation worker.
2011.11.14 Pakistan Chowrangi 1 1 A prayer leader is gunned down by Religion of Peace rivals.
2011.11.14 Pakistan Nala 4 5 An Islamic drive-by leaves four local soldiers dead.
2011.11.14 Pakistan Kohat 1 8 Terrorists fire mortar shells into a residential neighborhood, killing a woman.
2011.11.14 Pakistan Gharyal 2 0 Bodies are found of a woman and her husband who were stabbed to death by her family after eloping against their will.
2011.11.14 Iraq Mosul 2 3 Two civilians are murdered by 'insurgents'.
2011.11.13 India Kerala 1 0 Fundamentalists tie a man to a tree and torture him to death over sexual indiscretion.
2011.11.13 Iraq Kadhimiya 1 4 A Shiite pilgrim bleeds to death following a bomb attack on his bus by Sunni radicals.
2011.11.13 Pakistan Mastak 9 6 Six people are sent to Allah when terrorists detonate a bomb at a marketplace.
2011.11.13 Pakistan Spah Darri 6 0 Four children and two women are crushed to death by a mortar attack on their home by Religion of Peace militants.
2011.11.13 Dagestan Mutsalaul 1 0 An imam's assistant is shot to death by suspected extremists.
2011.11.13 Iraq Tikrit 3 11 'Insurgents' murder three Iraqis with a roadside bomb.
2011.11.12 Kazakhstan Taraz 7 0 An orthodox Muslim kills seven people before blowing himself up.
2011.11.12 Pakistan Karachi 1 0 A Shiite man is murdered by Sunni gunmen.
2011.11.12 Afghanistan Khash Rod 1 0 Holy Warriors shoot a village elder to death.
2011.11.12 Pakistan Charsadda 1 1 A local cop bleeds to death following a Sunni bomb attack.
2011.11.12 Afghanistan Mitram 9 0 A woman and child are among eight civilians torn to shreds by a Taliban bomb.
2011.11.11 Iraq Hillah 2 6 A 6-year-old boy is among the casualties of a series of Jihad bombings.
2011.11.10 Afghanistan Chamkani 3 3 Fedayeen stage a suicide bombing, with supporting fire from a mosque, which leaves three locals dead.
2011.11.10 Nigeria Kafanchan 2 0 Islamic raiders murder a village chief and his wife.
2011.11.10 Pakistan Akakhel 4 0 Four members of a local peace committee are ambushed and killed by Lashkar-e-Islam (Army of Islam). One is beheaded.
2011.11.10 Kosovo Mitrovica 1 2 Muslim snipers shoot a Serb twice in the back, killing him.
2011.11.10 Afghanistan Ghazni 2 0 A mother and daughter are stoned to death for adultery following a fatwa.
2011.11.10 Iraq Baghdad 2 4 A doctor and his son are dismantled by Mujahid bombers.
2011.11.10 South Sudan Yida 12 20 The Islamic Republic of Sudan bombs a refugee camp from the air, killing about a dozen.
2011.11.10 Afghanistan Lashkar Gah 2 1 Two civilians are incinerated by a suicide bomber. A child is badly burned.
2011.11.09 Pakistan Mardan 2 0 Two girls are 'honor killed' and dumped into a field.
2011.11.09 Yemen Zinjibar 2 0 Two local soldiers are killed by an al-Qaeda bomb.
2011.11.09 Indonesia Jakarta 0 1 A deaf and disabled man is brutally attacked with a machete by Sunni fundamentalists for being Ahmadi.
2011.11.08 Somalia Mogadishu 2 5 Two person are killed when al-Shabaab militants throw a grenade at a house.
2011.11.08 Afghanistan Badghis 11 3 Six children are among eleven lives brutally ended by a Taliban bomb on Eid al-Adha.
2011.11.08 Iraq Samarrah 3 7 Three Shiite pilgrims are sent to Allah by Sunni bombers.
2011.11.08 Russia Yaroslavl 1 0 Suspected Islamists shoot a rival imam several times in the head.
2011.11.08 Afghanistan Sar Howza 2 4 Fundamentalist bombers kill a government official and his bodyguard.
2011.11.07 Pakistan Taluka Chak 3 1 A doctor is among three Hindus gunned down by Muslims at a village clinic.
2011.11.07 Pakistan Swabi 3 9 A secular politician and his son are among three dismantled by a Fedayeen suicide bomber.
2011.11.07 Afghanistan Garm Ser 3 0 The Taliban end the lives of three Afghans with a roadside bomb.
2011.11.07 Pakistan Sindh 1 0 A Shiite is shot to death by Sunnis.
2011.11.07 South Sudan Guffa 7 12 Seven die when a refugee camp is bombed by the Islamic Republic of Sudan.
2011.11.06 Pal. Auth. Qalqiliya 1 0 Islamic terrorists gun down a man outside a mosque.
2011.11.06 Yemen Zinjibar 2 0 al-Qaeda snipers take down a local patrol.
2011.11.06 Pakistan Azam Warsak 3 3 Muslim militants open fire in a bazaar, killing three people.
2011.11.06 Pakistan Gilgit City 1 0 Sunni gunmen pick off a Shiite.
2011.11.06 Pakistan Abbottabad 0 1 A pregnant Christian woman is tortured for three hours by police.
2011.11.06 Nigeria Maiduguri 1 0 Islamists shoot a man to death in front of his family.
2011.11.06 Afghanistan Hassin Tal 7 18 A suicide bomber on foot takes out seven people leaving a mosque.
2011.11.06 Iraq Baghdad 10 29 Islamic militants detonate several bombs at a shopping mall, killing ten patrons.
2011.11.06 Pakistan Bara Kaman Gara 1 3 A woman is shot to death by Mujahideen inside her home.
2011.11.05 Pakistan Speen Mella 3 7 Three bomb disposal personnel are ambushed and murdered by Sunni hardliners.
2011.11.05 Pakistan Razmak 5 3 Talibanis massacre five members of a security patrol.
2011.11.05 Kenya Garissa 2 3 A member of the choir is killed along with an 8-year-old girls when al-Shabaab terrorists toss a grenade into a church.
2011.11.05 Iraq Taji 4 11 A woman is among four family members machine-gunned in their home by al-Qaeda.
2011.11.04 Nigeria Maiduguri 4 6 At least four people are killed by coordinated Fedayeen attacks, one at a college.
2011.11.04 Thailand Pattani 2 0 Two men on motorcycles are murdered in separate 'insurgent' drive-by shootings.
2011.11.04 Nigeria Potiskum 2 0 At least two villagers are gunned down by Muslim raiders.
2011.11.04 Philippines Malabang 2 0 Suspected Moro Islamists murder two Catholic roadside vendors.
2011.11.04 Nigeria Zonkwa 1 1 Nigerian Islamists shoot another Christian to death in a village raid.
2011.11.04 Nigeria Kaduna 2 14 Mujahideen gunmen attack a church, shooting two female worshippers to death.
2011.11.04 Nigeria Potiskum 150 200 Two-hundred militants shout 'Allah Akbar' as they slaughter one-hundred and fifty in a bombing and shooting rampage that targeted six churches and a police station. At least one-hundred and thirty of their victims were Christian.
2011.11.03 Afghanistan Herat 2 4 A Shahid suicide attack on a construction company leaves two guards dead.
2011.11.03 Pakistan Quetta 1 0 A prayer leader is murdered by suspected sectarian rivals.
2011.11.03 Iraq Karradah 4 7 Sunni bombers take out four Shiites in a residential neighborhood.
2011.11.03 Iraq Baqubah 10 40 A double suicide attack leaves ten Iraqis dead. The second blast was intended to kill victims fleeing the first.
2011.11.03 Afghanistan Ghazni 1 0 A child is taken out by a Taliban rocket.
2011.11.02 Pakistan Gilgit City 1 0 A second Shiite dies from a Sunni shooting attack.
2011.11.02 Pakistan Peshawar 1 10 Jihadis detonate a bomb in a packed marketplace.
2011.11.02 Dagestan Babayurt 2 3 Two local cops are shot to death by Islamic extremists.
2011.11.02 Thailand Narathiwat 6 2 Six Buddhist civilians are blown apart and then raked with gunfire by militant Muslims.
2011.11.02 Pakistan Nasirabad 2 6 Sunni terrorists detonate a roadside bomb under a passing vehicle, killing two occupants.
2011.11.02 Iraq Basra 12 62 A dozen Iraqis are torn to shreds by motorcycle bombs placed outside three cafes.
2011.11.02 Iraq Mosul 2 0 Two civilians bleed to death following a Sunni roadside bombing.
2011.11.02 Iraq Kirkuk 1 1 Islamists are suspected of killing a vegetable vendor and injuring his daughter.
2011.11.02 Nigeria Maiduguri 1 0 A robed fundamentalist pulls out an automatic weapon and murders a guard at a market.
2011.11.01 Pakistan Gilgit City 1 0 A Shiite is shot to death by Sunnis.
2011.11.01 Pakistan Sira Karpai 2 2 Religious extremists attack a police checkpoint, killing two officers.
2011.10.31 Pakistan Pakhtunkhwa 3 0 Religious militants abduct and behead three locals.
2011.10.31 Thailand Sri Sakhon 0 2 A child loses a foot and another suffers deep shrapnel injuries following an Islamist bombing.
2011.10.31 Afghanistan Kandahar 6 5 Suicide bombers kill three people outside a humanitarian aid office.
2011.10.30 Thailand Narathiwat 3 0 Three Buddhists are gunned down in brutal fashion by Muslims at a grocery, including a woman and an elderly man.
2011.10.30 Pakistan Malir 1 0 Sectarian gunmen take down a civilian.
2011.10.30 Israel Ashkelon 1 4 A 56-year-old father of four bleeds to death after Palestinians fire a rocket into an apartment building.
2011.10.30 Iraq Mosul 5 0 Five Iraqis are sent to Allah by Mujahideen bombers.
2011.10.30 Iraq Bani Saad 2 1 Terrorists shoot two brothers to death in their home.
2011.10.30 Thailand Songkla 1 0 Muslims gun down a civilian in a drive-by attack.
2011.10.29 Afghanistan Kabul 17 8 Women and children are among the dead as suicide bombers target a NATO bus, killing at least seventeen.
2011.10.29 Iraq Baghdad 1 0 A technology worker is blown up 'insurgent' bombers.
2011.10.29 Pakistan Changa Manga 1 0 Religious extremists are suspected of binding a local official and then burning him alive.
2011.10.29 Iraq Khalis 1 2 Jihadis take down a teenage girl riding in a family car.
2011.10.29 Iraq Deli Abbas 1 0 Fundamentalists shoot a liquor store owner to death in his home.
2011.10.29 Pakistan Tank 1 0 Islamic radicals murder a member of a local peace committee.
2011.10.29 Afghanistan Kandahar 4 9 A Taliban in uniform shoots three Australian police trainers and an interpreter to death.
2011.10.29 Somalia Mogadishu 10 0 At least ten people are killed during a Fedayeen assault on an African Union base.
2011.10.29 Nigeria Borno 1 0 Islamists gun down a rival cleric in front of his home.
2011.10.29 Iraq Mosul 1 0 A woman shopping at a market is gunned down by terrorists.
2011.10.28 Yemen Aden 1 3 Children are among the casualties of an al-Qaeda car bombing.
2011.10.28 Pakistan Karachi 1 1 A Shia is shot in the head and neck by sectarian Jihadis in front of his wife.
2011.10.28 Iraq Saadiyah 3 1 Three family members are executed at point-blank range by Muslim terrorists.
2011.10.28 Bosnia Sarajevo 0 1 A radical Islamist fires on the US embassy for 30 minutes with an assault rifle.
2011.10.28 Iraq Baqubah 2 2 Holy Warriors machine-gun a family, killing the two male members and leaving a child and mother with serious injuries.
2011.10.28 Dagestan Bairamaul 1 1 Islamic 'separatists' fire on a group of policemen, killing one.
2011.10.28 Pakistan Shindhand 2 0 Two brothers are killed when religious militants fire a rocket into their car.
2011.10.28 Afghanistan Khost 4 0 Four people riding in a car are exterminated by Sunni gunmen.
2011.10.28 Pakistan Nowshera 2 7 Two local cops are murdered by a Fedayeen suicide bomber.
2011.10.27 Kenya Mandera 4 4 A school principal is one of four killed when Islamists rocket a vehicle carrying student exam papers.
2011.10.27 Kenya Nairobi 0 1 A young convert from Islam is left for dead after being severely beaten with iron rods in front of his church.
2011.10.27 Iraq Amiriya 1 2 al-Qaeda bombers take down an opponent.
2011.10.27 Dagestan Tabasaransky 1 0 A moderate cleric is shot to death by extremists.
2011.10.27 Iraq Iskandariya 2 2 A child is among two Iraqis obliterated by 'insurgent' bombers.
2011.10.27 Iraq Baghdad 36 78 Fundamentalists target a music store with twin blasts, slaughtering at least thirty innocents.
2011.10.26 Afghanistan Parwan 6 50 Six locals are killed when Sunni fundamentalists detonate a fuel tanker.
2011.10.26 Philippines Sangali 1 8 Muslim terrorists are suspected of planting a bomb outside a lottery office.
2011.10.26 Pakistan Tank 2 0 Two members of a peace committee are machine-gunned in their sleep by Islamists.
2011.10.26 Pakistan Mohmand 3 0 Three local soldiers are kidnapped and executed by Religion of Peace proponents.
2011.10.26 Iraq Mosul 9 16 Two car bombs in the same neighborhood take down nine Iraqis.
2011.10.26 Iraq Iskandiriyah 2 2 Sunnis enter the home of a Shiite cleric and brutally shoot his wife and daughter to death.
2011.10.26 Pakistan Bara 1 0 Lashkar-e-Islam abduct and behead a defense volunteer.
2011.10.26 Iraq Khanaqin 0 7 Seven Shia pilgrims are injured when Sunni radicals bomb their bus.
2011.10.26 Iraq Hilla 2 0 A woman and her daughter are killed when terrorists blow up their home.
2011.10.26 Pakistan Bajaur 1 4 Four children are among the casualties when Muslim radicals shell their home.
2011.10.26 Pakistan Faqir Kalay 0 12 Young children are among the casualties when religious extremists bomb a clothing market.
2011.10.25 Pakistan Lower Dir 4 3 Sunni fundamentalists take down four people with a roadside bomb, including a 12-year-old boy.
2011.10.25 Pakistan Bara 1 0 Tahreek-e-Taliban militants murder a member of a peace committee.
2011.10.25 Thailand Yala 3 34 Muslim 'rebels' set off a series of bombs in populated areas, killing at least three civilians.
2011.10.25 Iraq Baghdad 5 13 Three Iraqis are killed in a two-day spree of bombings targeting traffic cops.
2011.10.24 Kenya Nairobi 0 14 Fourteen people suffer horrific burns and shrapnel injuries when Islamists throw a grenade into a nightclub.
2011.10.24 Afghanistan Maymanah 1 6 A suicide bomber successfully takes out a child.
2011.10.24 Yemen Aden 2 0 Two Yemeni soldiers are machine-gunned by suspected Ansar al-Sharia.
2011.10.24 Pakistan Khyber Pakhtunkhwa 2 2 A cab driver and member of a peace committee are gunned down by terrorists in separate attacks.
2011.10.24 Pakistan Korangi 2 1 Islamic militants are suspected of shooting a 12-year-old and one other person to death.
2011.10.24 Iraq Abu Ghraib 1 3 'Insurgents' murder a woman inside her home.
2011.10.24 Iraq Baghdad 1 7 A civilian is taken out by a Fedayeen suicide bomber.
2011.10.24 Nigeria Damaturu 1 0 Muslim gunmen knock on the door of an off-duty cop, then blow him away when he answers.
2011.10.24 Kenya Nairobi 1 10 Islamists throw a grenade into a bus stop, killing one person.
2011.10.23 Iraq Tikrit 2 0 A teacher and his daughter are brutally murdered by Mujahideen gunmen.
2011.10.23 Philippines Cabengbeng 5 8 Five Catholic plantation workers are massacred by Moro Islamists in a pre-dawn attack on their village.
2011.10.23 Philippines Lanao del Norte 3 3 Three members of a security patrol are killed by a Moro Islamist ambush.
2011.10.23 Afghanistan Shindand 2 0 Two local cops are obliterated by a Taliban roadside bomb.
2011.10.23 Thailand Narathiwat 5 8 A child and his parents are among five people torn to pieces by two Muslim bombs at a grocery.
2011.10.23 Afghanistan Zarghon 4 2 A Taliban bomb takes out four civilians.
2011.10.23 Thailand Narathiwat 2 1 Terrorists dressed as women open fire on a civilian defense patrol, killing two members before fleeing.
2011.10.22 Iraq Ameriyat 1 1 A civilian is cut down by automatic weapons fire from 'insurgents' in a passing car.
2011.10.22 Israel Kfar Iksa 0 1 A Jewish teenager is left with serious injuries after a stabbing attack by a Palestinian.
2011.10.22 Nigeria Maiduguri 1 0 A popular TV journalist is murdered in front of his home by Boko Haram assassins.
2011.10.22 Nigeria Saminaka 2 0 Radicals bomb and shoot up a bank, killing two, while yelling 'Allah Akbar'.
2011.10.22 India Anantapur 0 1 A school headmaster is severely beaten by Muslim activists after asking that women remove veils.
2011.10.21 Pakistan Bazai 3 1 Muslim extremists throw grenades into a home, killing three family members including a woman.
2011.10.21 Iraq Mosul 1 0 'Insurgents' murder a woman inside her home.
2011.10.21 Philippines Kabasalan 3 8 Moro Islamists gun down three local cops.
2011.10.20 Nigeria Bauchi 0 1 A Christian boy is shot at a soccer match by armed Muslims.
2011.10.20 Nigeria Yelwa 1 0 Three Muslim soldiers break into a home and shoot a Christian mother of five to death.
2011.10.20 Pakistan Karachi 1 0 A 22-year-old Shiite is shot to death outside his home by Wahhabis.
2011.10.20 Philippines Alicia 4 6 Four local soldiers are ambushed and murdered by Moro Islamists.
2011.10.20 Somalia Mogadishu 10 2 Ten African peacekeepers are murdered by al-Shabaab terrorists – some by beheading.
2011.10.20 Pakistan Khyber 4 3 A brutal Lashkar-e-Islam attack leaves four dead.
2011.10.19 Afghanistan Zarghun 5 0 Five Afghan troops are blown to bits by Taliban bombers while returning to their base.
2011.10.19 Afghanistan Badghis 3 2 A father and son are among three civilians ripped apart by a suicide bomber.
2011.10.19 Nigeria Maiduguri 2 0 Boko Haram gunmen murder two civilians in separate attacks.
2011.10.19 Iraq Ramadi 2 5 'Insurgents' bomb a health office, killing two innocents.
2011.10.19 Iraq Mosul 2 0 A judge and his driver are assassinated by Mujahideen.
2011.10.19 Pakistan Karachi 1 0 A Sunni activist is gunned down by sectarian Jihadis.
2011.10.19 Yemen Lahj 2 12 An al-Qaeda militant throws a grenade into a packed market, killing two civilians.
2011.10.19 Nigeria Maiduguri 2 0 The owner and a patron are shot to death at a barber shop by Islamic terrorists.
2011.10.18 Iraq Mosul 1 0 A Shiite baker is murdered by Sunni hardliners.
2011.10.18 Thailand Pattani 1 2 Muslim militants open fire on a group of investigators looking into an earlier murder.
2011.10.18 Thailand Narathiwat 1 0 Islamic 'separatists' put four bullets into the back of a wood trader.
2011.10.18 Pakistan Bara 3 3 Islamic militants are thought responsible for shelling that kills a doctor and two others, including a child.
2011.10.18 Pakistan Marot 2 0 A woman seeking a divorce is butchered along with her daughter by her husband's family in an honor killing.
2011.10.18 Pakistan Buner 3 2 Fundamentalists open fire on a party hosting transvestites, killing three.
2011.10.18 Afghanistan Gozara 2 0 Two women accused of 'immoral' activity are shot to death.
2011.10.18 Pakistan Karachi 3 0 Three seminary students are shot dead in a suspected sectarian attack.
2011.10.18 Somalia Mogadishu 4 6 A Holy Warrior detonates himself along a city street, cutting down four innocents.
2011.10.18 Pakistan Karachi 1 0 A 32-year-old Shiite is murdered by Sipah-e-Sahaba assassins.
2011.10.18 Philippines Basilan 19 14 Nineteen local soldiers are killed during an ambush by Moro Islamists.
2011.10.17 Iraq Baghdad 7 18 Fundamentalists set off a bomb near a liquor store, exterminating seven.
2011.10.17 Pakistan Karachi 1 0 A 45-year-old Shiite man is gunned down by Wahhabi terrorists.
2011.10.17 Pakistan Orakzai 1 0 The chief of a local peace committee is murdered by Islamists while on his way to a funeral.
2011.10.17 Pakistan Bara 9 3 Sunni extremists ambush a group of local soldiers and gun down at least nine.
2011.10.17 Algeria Boumerdes 1 2 A 7-year-old barely survives a fundamentalist bombing that leaves his mother dead.
2011.10.16 Nigeria Jos 1 0 Militant Muslims hack a local soldier to death with machetes.
2011.10.16 Egypt Mallawy 1 0 A Coptic high school student is beaten to death after refusing to take off his cross.
2011.10.16 Nigeria Maiduguri 1 0 A lawmaker is assassinated by Islamic gunmen while standing outside his home.
2011.10.16 Afghanistan Faryab 1 4 A child of about 3 bleeds to death following a suicide blast.
2011.10.16 Nigeria Gombe 4 0 Boko Haram bombers set off a blast that kills three civilians and a cop.
2011.10.16 Afghanistan Gardez 1 0 A city worker is killed by a car bomb.
2011.10.15 Afghanistan Panjshir 2 2 Two civilians are taken out by Islamic Movement of Uzbekistan suicide bombers.
2011.10.15 Nigeria Maiduguri 1 0 A local official is shot to death by Boko Haram.
2011.10.15 Iraq Baghdad 1 0 An interior minister is assassinated by suspected al-Qaeda.
2011.10.15 Thailand Narathiwat 1 0 A 48-year-old woman is stalked and murdered by Muslim 'insurgents'.
2011.10.14 Afghanistan Spin Boldak 3 5 A Fedayeen suicide bomber murders three local police officers.
2011.10.14 Pakistan Islamabad 1 1 Terrorists gun down a neighborhood cop.
2011.10.14 Pakistan Kharkai 2 6 Islamic militants kill two civilians with a mortar attack on their village.
2011.10.14 Iraq Hilla 10 40 Sunni bombers target a Shia funeral procession near a mosque, killing at least ten mourners.
2011.10.13 Iraq Kirkuk 1 42 A Shahid suicide bomber kills one other person near a bank.
2011.10.13 Nigeria Maiduguri 1 0 Boko Haram gunmen assassinate a man in his home.
2011.10.13 Iraq Sadr City 18 43 Eighteen people at a market are torn to shreds by Ansar al-Islam bombers.
2011.10.13 Thailand Pattani 3 0 A married couple and their relative are brutally cut to pieces in their own shop by Islamic gunmen.
2011.10.13 Thailand Pattani 3 0 Two people riding in a pickup truck and a teenager standing nearby are machine-gunned by Muslim militants.
2011.10.12 Thailand Yala 1 0 A civilian is shot to death on his way home by 'insurgents'.
2011.10.12 Pakistan Khyber Pakhtunkhwa 1 4 Children are among the casualties of an Islamist drive-by and mortar attack.
2011.10.12 Iraq Baghdad 14 28 A powerful Shahid car bomb blast leaves at least fourteen Iraqis dead.
2011.10.12 Iraq Baghdad 9 27 Nine people are reported dead after a Sunni suicide bombing in a Shia neighborhood.
2011.10.12 Iraq Illam 6 28 Three Jihadi car bomb kill six Iraqis.
2011.10.12 Pakistan Korangi 1 0 A Muslim slashes a Christian mother's throat after raping her.
2011.10.11 Pakistan Dasht 2 0 The Taliban set fire to an oil tanker, burning the driver and helper to death.
2011.10.11 Iraq Garma 1 0 al-Qaeda gunmen murder a man outside his home.
2011.10.11 Pakistan Kalaya 1 9 A mortar round fired by the Taliban reportedly slams into a home, killing one occupant.
2011.10.11 Somalia Mogadishu 1 0 Islamists send a mortar round into the maternity ward of a hospital, crushing a staff member.
2011.10.11 Dagestan Makhachkala 1 2 Suspected Islamic 'rebels' murder one person in a drive-by attack.
2011.10.10 Nigeria Maiduguri 2 2 Two Nigerians are killed by a Boko Haram bomb.
2011.10.10 Iraq Baghdad 13 22 Jihadi bombers murder thirteen Iraqis, including first responders, in a string of bombings.
2011.10.10 Afghanistan Dangam 6 2 A road construction crew is the target of a vicious double bombing that leaves six dead.
2011.10.10 Pakistan Chadrarh 2 0 Two former members of a peace committee are shot to death by militant Muslims.
2011.10.09 Pakistan Maidan 2 0 The Taliban kidnap and murder two young men.
2011.10.09 Egypt Cairo 27 329 Military and Islamist gunmen massacre over two dozen Christians peacefully protesting a church burning.
2011.10.09 Philippines Zamboanga 0 13 Abu Sayyaf bombers injured thirteen people in separate attacks targeting Christians.
2011.10.09 Somalia Mogadishu 12 40 At least a dozen civilians are killed during an al-Shabaab mortar attack on a residential area.
2011.10.08 Iraq Kirkuk 1 1 Muslim gunmen shoot an elderly Christian and a woman.
2011.10.08 Yemen Aden 1 7 A local soldier is killed in a bombing by Islamic extremists.
There is a reason we call it Islamic terrorism, and it isn't
because we falsely attribute motives to the terrorists, but
because Islam is the stated purpose and aim of the terrorists.
Daniel Greenfield