See on Scoop.it – Truth Revealed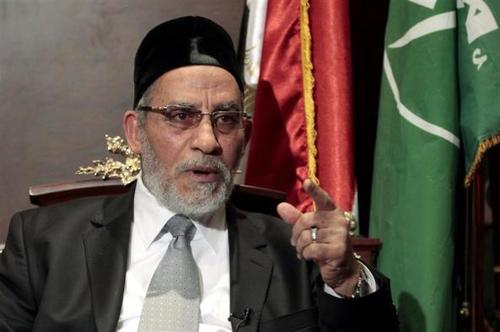 (Image: Muslim Brotherhood Guide Mohammed Badie)
(Algemeiner) A senior Muslim Brotherhood official is denying the group's leader called for "holy jihad" against Israel in a newspaper article last week, even though strikingly similar language remains on the Brotherhood's Arabic website.
The denial follows a call from the Simon Wiesenthal Center for President Obama to condemn the comments by Muslim Brotherhood General Guide Mohammed Badie, and for the United States to cut off all interaction with the Brotherhood until they are withdrawn.
Egypt's Al-Ahram newspaper quoted Badie calling for "holy Jihad" because "the Zionists only understand force," and saying that justice cannot be attained "through the corridors of the United Nations or through negotiations."
Badie's statement "confirms our long held view that Egypt's Muslim Brotherhood is the most dangerous anti-Semitic organization in the world today," Wiesenthal Center leaders Rabbis Marvin Hier and Abraham Cooper said in a statement.
Brotherhood spokesman Waleed Shalaby denied Badie made the statement.
But Badie's weekly message, still posted on the Brotherhood's Arabic-language website, mirrors much of what Al-Ahram reported. According to an Investigative Project on Terrorism translation, Badie said:
"The Zionists only know the method of force. They will not step back from transgression, unless they are forced to. This will only be by holy Jihad, and enormous sacrifices and all forms of resistance. One day they will be certain that we will choose this Way, and raise the flag of Jihad in the Way of God. We will go forth to the field of Jihad."
Jerusalem's Al-Aqsa Mosque is "the life of the Islamic Umma is not just memories of history time will erase with the blowing winds," Badie said, "nor will Muslims forget it through long occupation, but Jerusalem and Al-Aqsa Mosque are buried in the depths of Muslims, and love for it is in the veins of the faithful. … By God, it is dearer to us than our lives which we have. For its sake, a Muslim will not spare his life in sacrifice for it."
In a subsequent statement issued Sunday, the Wiesenthal Center called the Brotherhood denial "laughable," noting Al-Ahram is government-owned.
As we've noted repeatedly, the Brotherhood has a long track record of issuing benign-sounding statements to English-language audiences, but speaking in more radical terms in Arabic. For example, during Egypt's first electoral campaign since the fall of dictator Hosni Mubarak, the Brotherhood removed portions of its bylaws which call for "establishing the Islamic State" from its English-language website. But in a speech, Badie reminded supporters of the path Brotherhood founder Hassan al-Banna spelled out to develop "the rightly guided caliphate."
The Brotherhood struck a seemingly positive tone after American commandos killed Osama bin Laden, telling English language audiences "one of the reasons for which violence has been practised in the world has been removed." But to Arabic speaking audiences, bin-Laden was referred to with terms of honor, such as Sheikh and even "shaheed," or martyr. It condemned the American attack as an assassination and reinforced the right to "legitimate resistance" against occupation in Afghanistan, Israel and elsewhere.
It is in this context that the denials of Badie's statement by an Egyptian government media outlet, and on the Brotherhood's own website must be seen.
The Brotherhood is Egypt's undisputed power today, with President Mohamed Morsi resigning only after becoming a candidate for president. It cannot be ignored or dismissed as idle chatter when his colleague, Badie, calls for holy jihad to liberate Palestine.
"We are not dealing with a YouTube video or a lone extremist Imam, but a call to anti-Semitic violence by a man who has tens of millions of followers and leads the organization that controls Egypt's future. It cannot be business as usual in Washington when such an assault is launched against the Jewish people," the Wiesenthal Center statement said.
Given the support the Brotherhood enjoyed from Islamist groups in America, and the fact that several are direct descendants, the Muslim American Society, Islamic Society of North America and Council on American-Islamic Relations should denounce the comments, too.
Sign the MB investigation petition
Related
Jewish group condemns MB over anti-Semitic remarksIslamophobia is a sacralized Islamic Objective(video) Anti-Semitic indoctrination at Northeastern UU.S. Embassy calls out Muslim Brotherhood over TwitterMB co-opting Arab Spring to make caliphateObama Prepares huge bailout for Muslim BrotherhoodUnderstanding the Muslim Brotherhood"Muslim" calls out Dems for enabling Islamist "insurgent"Truther fairy tales: Israel seeks war to keep lid on 9/11Hamas ready to coordinate with the MB in Cairo(video) A Brave Challenge to Sharia in EgyptUS 'concerned' about media freedom in EgyptMB Crucifies Opponents, Attacks Secular MediaBrotherhood tightens grip on EgyptNewspaper editions confiscated for insulting MorsyEgyptian Sociologist: MB Most Dangerous IslamistsGOP leaders ignorant of MB's American influenceIn Egypt, Panetta Declares Support for IslamofascismAmerican Islamist groups shape Arab revolutionsRep Gohmert on MB letters, DHS, & terrorists in the WHIsrael perturbed by Obama's outreach to MorsyMB: Slapping, Stabbing, & Slaying for ShariaObama bypasses Congress–gives 1.5billion to MBEgypt: Anti-Brotherhood protest growsEgypt: Coptic activists march to presidential palace"Sharia Harassment" plagues Egyptian womentEgypt: Islamists debate role of Sharia in constitutionSec. Clinton Gave Hundreds of Millions to MBAl-Qaeda Muslim Brotherhood CoalitionMB Preaching Destruction of Israel After ElectionAllen West: Arab Spring is Islamic NightmareChristians Should "Convert, Pay Tribute, or Leave,"Brotherhood Promises Islamic Law in EgyptFemale Genital Mutilation: MB's Gift to WomenMB Goals: Application of Sharia & CaliphateMB Close to Attaining "Ultimate Goal"
Fatwa On Islam
See on www.algemeiner.com
Related articles
This one letter doesn't change a thing about the true nature and stated agenda of the Muslim Brotherhood. In fact, anyone who understands the brotherhood, knows that this letter's purpose is not to really say "we're sorry" (which if was genuine would have been immediate rather than weeks later), but rather is meant to help pacify the liberal American public into believing that the brotherhood and its other terrorist branches are not a threat and to help booster the reelection of Obummer who is giving the brotherhood so much on their dream list toward their agenda, such as access to the highest powers in the White House, appointing a terrorist to represent the US in Europe, sending billions to the brotherhood, and other treasonous acts. The whole world knows they'll lose this access when Obummer is sent back to the minor leagues where he belongs. So yes, it is propaganda.

From Cairo, a Brotherhood official writes about the attack on the American Embassy.
Related articles
See on Scoop.it – Islam Revealed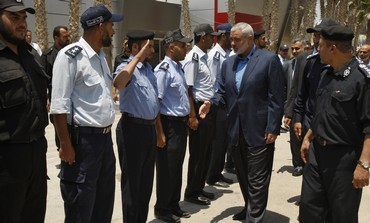 (JPost) – Hamas Prime Minister Ismail Haniyeh met Egyptian President Mohamed Mursi on Thursday in an official visit that signaled a big shift in Cairo's stance toward the Hamas movement after the election of a Muslim Brotherhood head of state in Egypt.
A Palestinian official said the head of Egyptian intelligence had promised measures to increase the flow of fuel supplied by Qatar to Gaza via Egypt and needed to ease the small Palestinian territory's power shortages.
But there was no immediate sign that Cairo was ready to open up its border with Gaza to the extent sought by Hamas, something analysts partly attributed to the influence still wielded by the Hosni Mubarak-era security establishment.
"Mursi's heart is with Hamas but his mind is elsewhere," said Hany al-Masri, a Palestinian political commentator. "He will give them as much as he can but he won't be able to give them much because his powers are restricted," he said.
Mursi's victory was celebrated in Gaza as a turning point for a territory whose economy has been affected by a blockade imposed by Israel and in which Egypt took part by stopping everything but a trickle of people from crossing the border.
Mursi's spokesman said the meeting had touched on subjects including "lifting the siege and the suffering of the people in Gaza" and reconciliation with the Ramallah-based Palestinian Authority, led by Mahmoud Abbas.
Sworn in on June 30, Mursi is trying to stamp his authority on an Egyptian state still influenced to a large degree by a council of military generals led by Field Marshal Hussein Tantawi, Mubarak's defense minister for two decades.
Mursi, Haniyeh share Ramadan meal
Mubarak had regarded Gaza's Islamist rulers with suspicion bordering on outright hostility reflecting his enmity towards the Brotherhood, the ideological parent of Hamas that was outlawed for decades in Egypt until last year's uprising.
Mubarak never recognized the Hamas administration which has governed Gaza since 2007, when its forces defeated Abbas' Palestinian Authority. Earlier this month, Mursi received both Abbas and Khaled Mashaal, the Hamas leader in exile.
On Thursday, Haniyeh and Mursi shared a Ramadan iftar – the meal with which Muslims break their fast during the holy Islamic fasting month. Earlier, Haniyeh had met chief of intelligence Murad Muwafi, reflecting the role still played by the Egyptian security establishment in managing Palestinian affairs.
The Egyptians said the quantity of fuel supplied via Egypt to Gaza would be more than doubled next week, a Palestinian official familiar with the talks told Reuters.
The fuel supplied by Qatar goes from Egypt into Israel, from where it passes through a crossing into Gaza in accordance with the existing arrangements on how goods pass into the territory that was captured by Israel from Egypt in the 1967 Six-Day War.
Israel withdrew all its settlers and soldiers from Gaza in 2005.
Earlier this year, Brotherhood officials had lobbied for the fuel to be sent straight across Egypt's border with Gaza – a move sought by Hamas and which would have marked a major step towards opening the border to trade and commerce.
In another apparent gesture triggered by Mursi's election victory, Egypt is to ease restrictions on Palestinians traveling through Egyptian territory on their way in and out of Gaza, Egyptian border officials said this week.
A diplomat familiar with Cairo's policies on Gaza did not expect Mursi to open Rafah to trade. But all else could be discussed, he said, including "improving conditions at crossings and increasing the number of passengers and Egyptian aid."
Related
(Video) Backing up Bachmann & Beck (Video) Egyptian activist compares MB to Nazis
Israel perturbed by Obama's outreach to Mursi MB: Slapping, Stabbing, & Slaying for Sharia Obama invites Egypt's Islamist leader to U.S. Dealing with Islamic groups new normal Hamas PM to meet Islamist President of Egypt Egypt: Islamists debate role of Sharia in constitution Sec. Clinton Gave Hundreds of Millions to MB Al-Qaeda Muslim Brotherhood Coalition  MB Preaching Destruction of Israel After Election Allen West: Arab Spring is Islamic Nightmare Christians Should "Convert, Pay Tribute, or Leave," Brotherhood Promises Islamic Law in Egypt Female Genital Mutilation: MB's Gift to Women MB Goals: Application of Sharia & Caliphate
Fatwa On Islam
See on www.jpost.com
Related articles