See on Scoop.it – Truth Revealed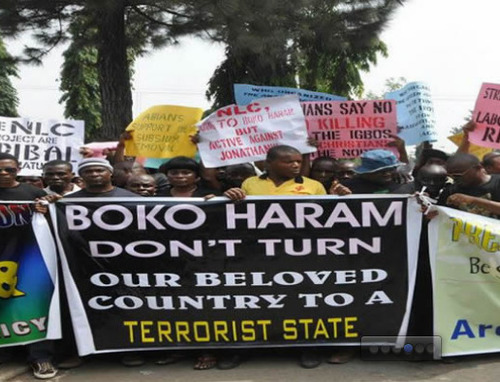 ——-
Qur'an (47:4) So when you meet those who disbelieve, strike necks until, when you have inflicted slaughter upon them, then secure their bonds, and either favor afterwards or ransom until the war lays down its burdens. And if Allah had willed, He could have taken vengeance upon them, but to test some of you by means of others. And those who are killed in the cause of Allah – never will He waste their deeds.
——-
(CANAN) Nigerian-American Christians will not sit-by idly as our brethren are being slaughtered in Nigeria by extreme and fundamental terrorists. To this end we are addressing  a press conference.
WHERE: National Press Club (Murrow Room)
WHEN: [Tuesday] Oct 23, at 10 a.m.
CANAN leaders, some of whom will address the conference include:
Dr. James Fadele, a retired Senior Design Engineer at Ford, now senior pastor and leader of one of the largest Christian denominations in the U.S., Redeemed Christian Church of God. He is the Chairman of the association.
Ms. Oby Ezekwesili, immediate VP of the World Bank-Africa Region, a trustee of the association.
Laolu Akande, the longest serving Nigerian foreign correspondent in the United States and (African) at the UN, who is the association's Executive Director.
Emmanuel Ogebe, a religious freedom advocate, and CANAN's governmental affairs representative.
The challenge that the Boko Haram menace has thrown is that of the good fight of faith. Boko Haram is a threat not only to Nigerians, but to U.S. interests. This much the U.S. Congress have said.
CANAN will take up that challenge and use peaceful and non-violent means to fight back. Christians and innocent Nigerians of all hues have become victims of the senseless killings by the terrorist group. But it is also a challenge to the Nigerian government, its Police Force, and other security agencies in the nation.
We also call upon the US government and all people of goodwill around the world to pay due attention to what is happening in Nigeria, in order to defend our common humanity.
We call on the international community not to remain quiet.
We call on the U.S. government to review its present policy which falls short of correctly designating the Boko Haram as a terrorist group that it is!
As for CANAN, formed recently in New York, we shall not keep quiet, and we ask for the support of the American people.
CANAN will avail itself of its international contacts here in the U.S. and elsewhere to equip Nigerian Christians against lawlessness and the disturbingly recurrent threat to their fundamental rights.
Related
The rape and murder of Pakistan's Christian childrenBoko Haram leader issues threat over anti-Islam video (Video) Lefty Bob Beckel rails against murderous MuslimsA Message from Ex-Muslim in the Boko Haram killing zone!Boko Haram: An Overlooked Threat to U.S. SecurityBoko Haram Warns to Convert or 'Not Know Peace Again'Africa: Muslims Wage Religious War on ChristiansKenya: At least 15 killed in church attacks300 Suicide Bombers to Attack ChurchesBoko Haram to use Poison in Jihad Against Christians25 Dead After Multiple Exploding-Muslim AttacksThe Obama Administration's Genocide DenialAnother Exploding-Muslim Attack on a ChurchBoko Haram Suicide Bomber Attacks ChurchBoko Haram is Jihad on Christians, says Akinola
Fatwa On Islam
See on www.sacbee.com
See on Scoop.it – Islam Revealed

via Stakelbeck on Terror The "Education or Indoctrination" report focuses on what students in grades 6-12 are learning about jihad, Islamic sharia law, Muhammad, Israel, 9/11 and much m…
See on creepingsharia.wordpress.com
Islamic Countries Dominate Open Doors 2011 World Watch List
SANTA ANA, Calif., Jan. 5, 2011 /Christian Newswire/ — Despite Communist North Korea topping the annual Open Doors World Watch List (WWL) for the ninth consecutive year, the most dangerous countries in which to practice Christianity are overwhelmingly Islamic ones.
That paragraph should be printed on a little business card, convenient for us to hand out to Christian appeasers who fantasize that our friends in the henna beards are either
1. Victims of racism, poverty, and social exclusion (liberal Christian dhimmis)
2. Enraged by American policies and Zionist oppression (ultra-leftist and ultra-rightists) or
3. Our future allies in the war against the hedonist Culture of Death (frustrated theocrats sunk in impotent rage).
Perhaps on the other side of the card we can print the following sura from the Qur'an:
9:29. Fight against those who believe not in Allah, nor in the Last Day, nor forbid that which has been forbidden by Allah and His Messenger and those who acknowledge not the religion of truth (i.e. Islam) among the people of the Scripture (Jews and Christians), until they pay the Jizya with willing submission, and feel themselves subdued.
The texts would fit very nicely, and the bottom of each side could read: "To learn more, visit Jihadwatch.org. Or visit Saudi Arabia and try to find a church or synagogue."
In case people have further questions, it might be handy to have, in leaflet form–or loaded on your Blackberry or iPhone–the text of the Pact of Umar, the model for the "toleration" sharia–an intrinsic part of Islam that every major Muslim group, including CAIR and ISNA endorses–grants Christians once it's in force. Again, it's a short, informative text.
The Pact of Umar
(promises conquered Christians make in return for Muslim protection):
* We shall not build, in our cities or in their neighborhood, new monasteries, churches, convents, or monks' cells, nor shall we repair, by day or by night, such of them as fall in ruins or are situated in the quarters of the Muslims.
* We shall keep our gates wide open for passersby and travelers. We shall give board and lodging to all Muslims who pass our way for three days.
* We shall not give shelter in our churches or in our dwellings to any spy, nor bide him from the Muslims.
* We shall not teach the Qur'an to our children.
* We shall not manifest our religion publicly nor convert anyone to it. We shall not prevent any of our kin from entering Islam if they wish it.
* We shall show respect toward the Muslims, and we shall rise from our seats when they wish to sit.
* We shall not seek to resemble the Muslims by imitating any of their garments, the qalansuwa, the turban, footwear, or the parting of the hair. We shall not speak as they do, nor shall we adopt their kunyas.
* We shall not mount on saddles, nor shall we gird swords nor bear any kind of arms nor carry them on our persons.
* We shall not engrave Arabic inscriptions on our seals.
* We shall not sell fermented drinks.
* We shall clip the fronts of our heads.
* We shall always dress in the same way wherever we may be, and we shall bind the zunar round our waists
* We shall not display our crosses or our books in the roads or markets of the Muslims. We shall use only clappers in our churches very softly. We shall not raise our voices when following our dead. We shall not show lights on any of the roads of the Muslims or in their markets. We shall not bury our dead near the Muslims.
* We shall not take slaves who have been allotted to Muslims.
* We shall not build houses overtopping the houses of the Muslims.
* (When I brought the letter to Umar, may God be pleased with him, he added, "We shall not strike a Muslim.")
* We accept these conditions for ourselves and for the people of our community, and in return we receive safe-conduct.
* If we in any way violate these undertakings for which we ourselves stand surety, we forfeit our covenant [dhimma], and we become liable to the penalties for contumacy and sedition. [That penalty is death–ed.]
Given the primary sources they're working from, the text of the divine "Revelation" they follow, and the normative historical exemplars they imitate, modern Muslims across the world are doing a much better job of living up to their religion than most Christians are–as the Open Doors report demonstrates:
Of the top 10 countries on the 2011 WWL, eight have Islamic majorities. Persecution has increased in seven of them. They are Iran, which clamps down on a growing house church movement; Afghanistan, where thousands of believers cluster deep underground; and Saudi Arabia, which still refuses to allow any Saudi person to convert to Christianity.
Others are lawless Somalia, ruled by bloodthirsty terrorists threatening to kill Christian aid workers who feed Somalia's starving, impoverished people; tiny Maldives, which mistakenly boasts it is 100 percent Islamic; Yemen with its determination to expel all Christian workers; and Iraq, which saw extremists massacre 58 Christians in a Baghdad cathedral on Oct. 31. Of the top 30 countries, only seven have a source other than Islamic extremists as the main persecutors of Christians.
The top 10 in order are North Korea, Iran, Afghanistan, Saudi Arabia, Somalia, Maldives, Yemen, Iraq, Uzbekistan and Laos, which has a Communist government. Iraq is new to the top 10 list while Mauritania dropped out, going from No. 8 to No. 13.
The country that saw the greatest deterioration of Christian religious freedom in the reporting period from Nov. 1, 2009, through Oct. 31, 2010, was Iraq, jumping from No. 17 to No. 8. The country has seen a Christian exodus in recent years, with an estimated 334,000 Christians remaining in this ancient cradle of Christianity, a drop of more than 50 percent since the 2003 toppling of Saddam Hussein's regime. The main reason why Christians are fleeing is organized violence by an extremist militia, especially in the northern city of Mosul and in the capital Baghdad, in an attempt to cleanse these areas of its Christian presence. At least 90 Christians were martyred last year in Iraq while hundreds more were injured in bomb and gun attacks. More killings have taken place in the past two weeks. [Mission accomplished, GWB!]
The country with the largest Christian community on the WWL's top 15 is Pakistan with more than 5 million believers. Pakistani Christians also faced a sharp erosion of their religious liberty with the country leaping from No. 14 to No. 11 on the current list. Twenty-nine Christians were martyred in the reporting period with at least one killing occurring every month. Four Christians were sentenced to long terms in jail for blasphemy against Islam, at least 58 Christians were kidnapped, more than 100 Christians were assaulted and 14 churches and properties were damaged.
Other countries that rose markedly on the new WWL were Afghanistan, up from No. 6 to No. 3, especially in the wake of ugly demonstrations when footage of Muslims being baptized was shown on network television. Dozens of Christians from the tiny Afghan church have had to move due to subsequent death threats, and in August a 10-person medical aid team from a Christian organization was slaughtered. [Nice work, President Obama. The "surge" is working!]
The year's grisliest headlines were found in No. 26 Nigeria, however, where a staggering 2,000 Christians lost their lives in riots caused by Muslim extremists in some of the northern states in the country. Tension has been growing for more than a generation in northern Nigeria, and escalated after 1999 when 12 northern states adopted Sharia (strict Islamic law). On Christmas Eve Compass Direct News reported the killing of a Baptist pastor and five other Christians in northern Nigeria. More killings of Christians were also reported in the last two weeks. [Christianity is the white man's religion; Islam brings equality and justice. But which religion is it that's killing the most black people every year?]
Egypt is ranked No. 19 on the WWL and could be a focus of persecution this year as 21 Christians were killed in a bomb blast on New Year's Day outside the Church of Two Saints in Alexandria. [Pope Benedict, stop interfering. We've got the situation under control.]
At this point in the discussion, it's worth stepping back and remembering what "dhimmitude" denotes. It means "protection," and now we know in what sense that word is meant: in the sense of protection racket. When the Westies used to barge into bars in my mother's old neighborhood, Hell's Kitchen, and offer "protection" to the owners, it was clear to everyone involved from whom the hapless businessmen were being protected: from the Westies. Given the many ways in which Muhammad, once he arrived in Medina and came to power, acted like a gangster, it's no surprise that his followers continue to carry on like a gang of thugs. When Islamic apologists insist that any discussion of Islam's crimes against "unbelievers" of every creed or none is hateful Islamophobia, it's best to remember how Mafia lawyers used to rant about ethnic stereotypes–typically as they addressed a jury, defending some "mook" who'd shot his cousin in the back of the head. Then they'd go home, open a jug of Gallo red, and watch The Sopranos. I wonder if Reza Aslan and Ibrahim Hooper, after a long, hard day of lying, stoke up the shisha and kick back to enjoy the video footage from Alexandria and Baghdad….